Sapo King-Ramos said, "People tell me that it is such a nice thing that I'm doing. I don't think so. I believe that God gave me many gifts and either I use them or lose them. And one gift is to help others that need it, no matter what they look like or what their last name is. I believe it is my job to help people who need it."
Since the age of 8, Sapo King has been spending the month collecting clothing and food for homeless and displaced families. Every other Saturday, he takes a trip into the San Fernando Valley or Los Angeles's Skid Row and distributes his collected resources. To date (2011), Project Sapo King has helped to feed and clothe over 2,000 people on the streets of Los Angeles and the San Fernando Valley. With the number of homeless in these two geographic areas being 1.5 million, and over 400,000 of those counted being under the age of 17, there is a definite need for programs such as [PSK].
"It is a true gift for us to partake in Project Sapo King [PSK]. To be a part of something with the potential of creating a positive change in the lives of other human beings, and to see the inspiration being generated from the mind and soul of an eight year old humbles me," said D.Zapa.
Celebrities and organizations participating in the campaign include:
Dwight Hicks—Two-time Super Bowls Champion, San Francisco 49ers
Bobby Castillo – World Series Champion, Los Angeles Dodgers
Mario Solis—NBC Sportscaster
Luis Rodriguez – Award-winning Chicano writer
Herb Meistrich – CEO, TMP
FRAME—award-winning graffiti artist
Julio Gudino, CEO of D.Zapa Media said, "Given the passion of Sapo King, I have no doubt Project Sapo King will positively touch the lives of millions and millions of people globally by the time he's done."
---
J4K magazine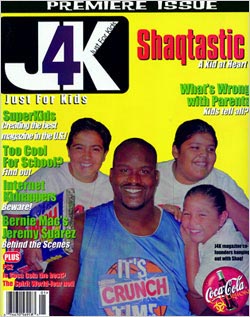 J4K are acronyms that stand for: For Kids, By Kids, About Kids. It is a magazine created by a group of kids that represent a number of sub-cultures of the US society. With the help of the D.Zapa Media founders, these kids were mentored in the process of creating a media vehicle that represents their voices, their questions, and their dreams. J4K Magazine is a vehicle created for kids to find answers that pertain to their market audience—8 – 14 years of age. J4K Magazine features: education, culture, photography, mentors, celebrity, and fashion. This Give-Back Project is an excellent example of how one group of individuals can educate and inspire a generation of youth to find, dissect, and create a voice that represents two things: a sub-culture of US society; and, original thoughts.
To launch this project, the founders of D.Zapa Media donated resources that included: time, funding, skills, and mentoring. Two weekends out of the month, the kids learn the process of creating a media vehicle. They learn the skills of design, art direction, photography, interviewing, research and writing. They also learn the process of obtaining advertising support and the printing process. Every quarter, J4K Magazine distributes 10,000 units nationwide. J4K Magazine included:
NBC News
ABC News
KTLA 5 Morning News
KTTV 11 Morning News
KCOP 13 News
Telemundo
Univision
La Opinión
Despierta America
The Goals:
To educate and inspire youth in expressing their original thoughts, ideas, and desires within their own produced magazine.
To mentor these youth in the editorial and publishing businesses.
To mentor youth in becoming successful college students.
Create a cartoon project package [character breakdowns, Episodic Ideas, Celebrity commitment, and artwork].
Solution:
The four founding kids of J4K Magazine are now successful college students. Of the 34 kids who have participate in our program, 30 are either college bound or in college.
R. Julio Gudino, CEO of D.Zapa Media said, "It has been heartwarming to see our D.Zapa Media family pull together to create a positive and energetic space where our youth can learn how to create their very own publication and search for life's answers through research, interviews and travel. We felt that it was crucial to focus on the youth. We started with four kids and that number climbed to 34.
Kids need our help and together we can assist them in preparing for a successful future by ensuring they have the means to continue their schooling. Better than that, is to be a part of a program where we teach these kids life skills that make them stronger students—in school and in life."