An Antonio Pelayo/Richard Duardo Collaboration
PROJECTFRIDA is a collaboration between D.Zapa Media, Antonio Pelayo and Master Printer Richard Duardo. Based on Antonio Pelayo's original graphite art entitled, Frida, Richard Duardo added his artistic interpretation to this iconic image with nine silk screens and a spot varnish. This mixed media work of art consists of 8 original Maquettes (hand painted by Antonio Pelayo and Richard Duardo with pastels), 10 mixed-media uniques (hand touched by Antonio Pelayo and Richard Duardo with pastels; 5 – Red, 5 – Blue), and a mixed-media limited edition of 75 (red and blue backgrounds).
Many modern artists have paid homage to this global icon by reproducing her image in their style of art. But few have captured her essence in the way emerging and award-winning artist Antonio Pelayo has. Frida Kahlo has been a great inspiration to Antonio's work. Her tenaciousness, passion to express the voices and beliefs of her country's marginalized citizens, and her adamant refusal to ask anyone for permission are traits developed in the artwork of Antonio Pelayo.
Antonio Pelayo creates drawings that are both referential and reverential. A self-taught artist, the body of work from Antonio Pelayo has moved and inspired his generation with his photorealism creations. This gifted craftsman uses graphite to explore and document history. Pelayo's impressions of the human form reflect realism over idealism, perhaps best represented by his "Mi Familia" series that dissects the family, acculturation, assimilation, and the loss of identity. In a short time, this series will be admired and studied at the highest levels of art and academics arenas. Antonio Pelayo has been creating photorealism art since 1997. He has participated in over twenty museum shows internationally and has won more than 50 awards. His works is a part of notable collections. Most recently, Antonio Pelayo has been commissioned to created an original mural for Walt Disney Studios. Constantly searching for the voice of his subject, AP has emerged as one of the most amazing graphite artists in the contemporary art world.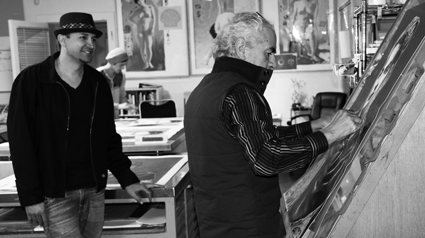 Richard S. Duardo Modern Multiples Fine Art Studio/Managing Director and Master Printer. Once referred to as the "Warhol of the West," Richard Duardo has established a name for himself by producing prints of pop-culture icons. After graduating from UCLA, Duardo dove into Highland Park's art scene by working with Self-Help Graphics and co-founding his first studio, Centro de Arte Publico. Today, he owns Modern Multiples, a printmaking studio featuring contemporary artists. Richard S. Duardo, renowned artist and master printer, has been an advocate of the arts in Los Angeles for over 25 years. Considered the "West Coast-Warhol," Duardo was honored by the National Endowment for the Arts and named "The Artist of the Year" in 1988 by the California Arts Commission. As a printmaker, Duardo has produced a vast body of serigraphs, his preferred medium. Since 1980, his fine art print studios have produced the works of over 400 artists, including art-icons Shepard Fairey, Banksy, Ron English, Blek Le Rat, Raymond Pettibon, David Hockney, John Van Hamersveld and Keith Haring.